Your Orlando Fishing Guide-
Capt. John Kumiski's Spotted Tail Orlando Fishing Charters
Orlando Fishing Trips
Look no further than Capt. John Kumiski's Spotted Tail Orlando Fishing Charters for thrilling guided saltwater fishing trips. We're only one hour's drive from Orlando! We fish on the Mosquito Lagoon, the Indian River Lagoon, the Banana River Lagoon, and in the near-coastal Atlantic waters. John's anglers have been catching fish on central Florida waters for over 25 years.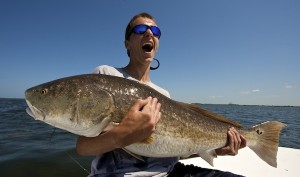 Fly fish or use light tackle for redfish, seatrout, snook, tarpon, black drum, and more on the waters of the Mosquito Lagoon, Indian River Lagoon, and Banana River Lagoon. Or you may prefer to fish the near coastal waters of the Atlantic Ocean for tarpon, snook, cobia, king mackerel, sharks, and many other species.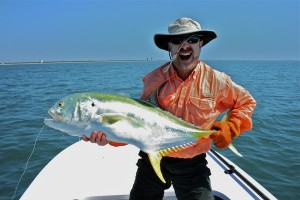 Spotted Tail Orlando Fishing Charters supplies all fishing tackle, whether fly fishing or light tackle fishing. We also supply the flies, lures, or bait for your fishing, and all necessary licenses* and permits.
Fish from our skiff, or by kayak or canoe.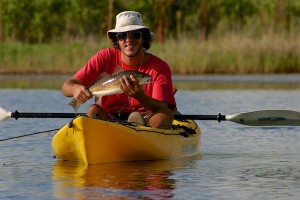 We love experienced fly anglers, but are equally happy taking beginners or children. Everyone should be able to enjoy our fishing!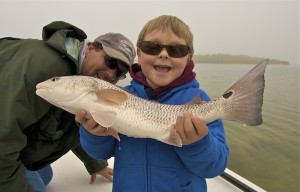 Do what thousands of other happy fishermen have done and make your next Orlando fishing trip one to remember with Spotted Tail Orlando Fishing Charters, the most enjoyable and educational fishing trips in Orlando.

*Kayak fishermen must have their own fishing license.
————————————————————————————-
NEWS and Upcoming events-
We fished around this week- St. Johns River, Port Canaveral, Indian River Lagoon, Mosquito Lagoon. See the report here…
————————————————————————————–
My Mitzi Skiff is for sale- visit this link for more information…
——————————————————————————————————-
Blog Posts This Week-
-New Mobile Marine Service in Central Florida
-Oil Drilling Coming to the Everglades
I've been adding new articles this week- see them here… 
——————————————————————————————————–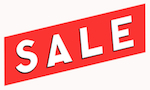 All Books by Capt. John Kumiski on Sale!   Visit this link…
——————————————————————————————————-
Call 407.977.5207 now for more fishing information!
——————————————————————————————-
Some Testimonials-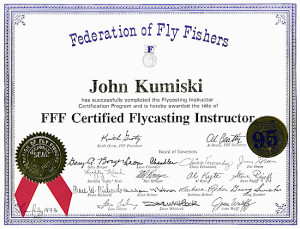 "I enjoyed fishing with you yesterday – great to talk some fishing with someone who knows their stuff. I am a member of the Board of Directors of the Kayak Fishing Association of New York and will definitely recommend you for anyone traveling down to this area in my club. I will be back again someday, and hope to meet up with you again." -Patrick Gallagher
"I cannot thank you enough for yesterday. I had one of the best days of my life and I enjoyed every minute. And of course, I can't stop thinking about: 'Lane, have you ever tried tarpon fishing? You'd be really good at that.'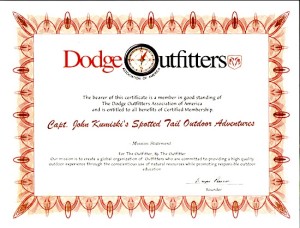 "Yes, I need to try that.
"But I'll be back for reds, too. That's some awesome stuff. I'll send others your way, as well. Thanks again."    -Lane Thurgood
"I would like to thank you for a great fishing trip. My son and I will treasure this trip for some time. We have never been on a guided fishing trip like this one. This trip was fantastic, your personality and demeanor is perfect for your job. Your courtesy on the water was exemplary." -Randy Sorbi
"Just a note to thank you for the outstanding day Laura and I spent fishing with you. It may have been one of the most enjoyable days I have ever had fishing. I have been recommending you highly." -Gene McDonough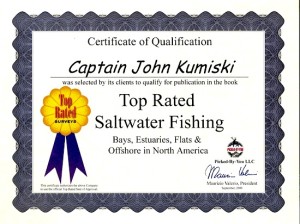 "Thank you for giving me a dream trip. You have no idea what a time I had. You worked hard, were knowledgeable, and most of all were a person I liked spending a day in a small boat with." -John Kohler
"Thought you'd like the photo of the first tarpon of the day! Thanks again for the Very Memorable – World Class – Once in a Lifetime -fishing outing!" -Mac and Sherry Dye
"I have fished all over the world with dozens of different guides, and Capt. John Kumiski would have to rate as one of the best. He is knowledgeable, patient, and skillful. My son and I will never forget catching in one morning on fly rods two redfish weighing a total of 40 pounds." -Michael Barnett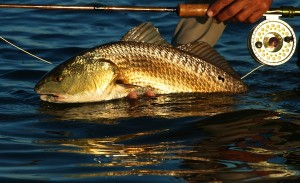 What We Do: Spotted Tail Charter Service provides expert fishing charter services and fishing instruction. We specialize in shallow water sight fishing with fly fishing and light spinning tackle. We fish on the Mosquito Lagoon, the Indian River Lagoon, the Banana River Lagoon, and near coastal Atlantic Ocean, for redfish, tarpon, seatrout, snook, and many other species of fish. The cities we service include Orlando, Cocoa Beach, Cape Canaveral, Melbourne, New Smyrna Beach, Daytona Beach, and the rest of the central Florida area and attractions.
Call 407.977.5207 now for more information!
Spotted Tail Fishing and Outdoors

Navigation by WebRing.