Port Canaveral's Big Jack Crevalle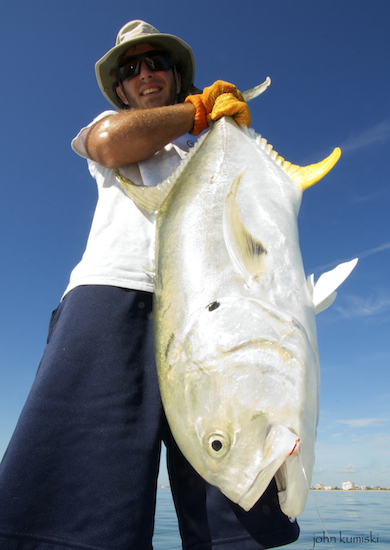 It was one of my most memorable charters. The surface of the Mosquito Lagoon was slick. We'd been on a school of redfish for two hours and gotten one bite, which was missed. I said, "We should go to Port Canaveral." So we left the reds, pulled the boat out, and drove to the Port.
The wind had come up by the time we got there, but by the grace of God we found a long string of jack crevalle only a half mile from the south jetty. These weren't little hockey puck jack crevalle, or even nice, healthy 10 and 12 pounders. These were the big, mean, break-your-back, take-no-prisoners 30 and 35 pound jack crevalle.
We had four ten pound spinning outfits on board. As I tied a one ounce jig onto the line of one I told my angler, "This is like hunting elephants with a spitball shooter." I threaded a five inch chartreuse jerkbait onto the hook of the jig and handed him the rod.
We idled around briefly until we found the fish again. Mike started casting. In short order he made a good cast and a cooperative jack nailed the jig.
By this time the sea breeze had kicked in. We had to chase the fish into the waves, which were pouring over the bow. I had serious concerns that Mike would be going swimming, so I had him get behind me and use the poling tower as a lean bar. This had the advantage of slowing down the flood coming over the bow. I told him, "If you catch this fish it will be a miracle."
The guy was a solid angler, and before too long the fish was beneath us. Mike would pull him in close, and the fish would take off again. Mike had to work around the poling tower, and the pushpole, and the motor. The Mitzi was rocking and rolling, waves were still coming in, and the bilge pump was running non-stop. It was true combat fishing, an awesome battle between two equally determined antagonists.
Finally, the fish made yet another surge and the line went slack. Fifty minutes into it and the fish had cut him off on the propeller. I never thought he would catch that big jack with that little outfit anyway.
The next morning found Scott Radloff and I launching the boat at the Port. I had a castnet and three spin rods loaded with 30 pound Power Pro. We caught a bunch of menhaden and went looking for the jacks.
The weather was perfect, just a slight breeze and very few clouds. We found many schools of crevalle cruising at the surface in Canaveral Bight. We'd determine which way they were going and put the boat there. When they got into range we'd cast a frisky menhaden in front of them. We had very few refusals, hooking 14 fish and putting five into the boat. All were quickly unhooked and released.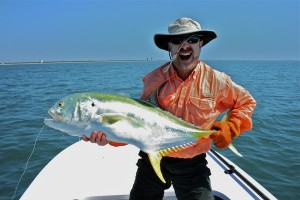 The next day I was sore all over from fighting those fish.
One day when my kids were much younger we were out off the beach five or six miles. I saw an area of discolored water and went to see what it was. It was hundreds of giant crevalle all swimming together. We threw both poppers and jigs at them. While this often works, these fish weren't aggressive and spooked off the lures.
I impaled a live pinfish on a hook and tossed it into the fish. Immediately there was a giant boil and the line came tight. Ah, that's more like it! We tag-teamed that fish for an hour before I lifted it into the boat, every bit of 30 pounds of hard, fishy muscle.
From these and several other experiences I've learned a few things. First off, if you hope to have success with these fish you need sufficient tackle.  A reel like a Shimano Spheros 6000 or equivalent loaded with 30 pound or heavier braid is a good working minimum. You need a rod with some backbone, too. If the outfit would be suitable for 100 pound tarpon it will work just fine for 30 pound jacks.
Of course jacks will hit lures, even flies. But for the "sure thing" kind of approach, some kind of lively small fish works best. Whether it's menhaden, mullet, pinfish, croaker, or some other type of baitfish doesn't seem to matter. But while tossing lures is an "I hope one takes this" moment, tossing a fishie usually results in a large boil and a stretched line.
I like a three or four foot long, 30 to 50 pound fluorocarbon leader, and a Daiichi circle wide hook, #5/0 to 7/0, depending on bait size.
If you hope to sight fish these guys you need good weather. If it's not wavy the jacks will swim right at the surface. A 50 or 100 yard-long string of 30 pound crevalle is fairly easy to see on a sunny day.
Sometimes when it's wavy you'll see the wakes they push as they move, but much of the time they'll be farther down in the water column, invisible. You can still get them by slow trolling, but it's a guessing game because you don't know exactly where they are.
If you intend to use lures, jigs and poppers are generally the best types to use, although when jacks feed aggressively they will hit almost anything. They are aggressive, fast moving fish and your lure had better work fast as well. Many times the fish will chase a lure but not hit it because it's not moving fast enough. When in doubt, go faster! Chartreuse, yellow, and red and white seem to be good colors for these fish.
These big jacks present a special challenge to the fly caster. Many times you can't strip a fly fast enough to get a bite. The bait-and-switch is what you need here.
Using a large fly and a minimum of a ten-weight rod, make you best cast in the direction of the jacks. Have a friend with a spinning rod cast a large, hookless popper at the fish. He reels it as fast as he can, exciting the fish and getting them to chase and attack it all the way to your waiting fly. It takes a little bit of practice to get the teamwork down properly, but once you master the technique it works very well. Be prepared to sweat after you hook up.
The fish start showing up outside of Port Canaveral around the end of April. I've gotten them into July, and suspect there's some north-south movement that brings another batch by in the fall, following the migrating bait. May and June seem to be the best months for sight fishing them, though. Some years they're thick. Other years they just blow through and you get very few chances at them.
The best way to boat these fish requires those orange gloves with the rubber squiggles on them. The man with the rod pulls the fish next to the boat. The second man grabs the leader with a gloved hand, grabs the fish in front of the tail with the other hand, puts his first hand under the belly of the fish, at heaves it into the boat. I don't know how you'd do it on a boat with high sides. I've never had to face that problem.
It would be a waste to gaff these fish. Crevalle jacks are generally considered quite poor table fair. The flesh is very red and dark due to the red muscle of the fish, which makes it coarse and poor tasting.
But they are so much fun in a masochistic sort of way! Let that big fish go to breed and to fight another day! Get your hook and maybe a quick photo and quickly get the fish back into the water. They will not survive much abuse, so work fast.
They're awesome fish, not for the faint of heart. If you're up for the challenge, go try for break-your-back jacks.
John Kumiski
All content in this article, including writing and photos, copyright John Kumiski 2014. All rights are reserved.
If you found this article useful and would like to donate to Spotted Tail, please click here…