Summer Seatrout in Mosquito Lagoon
A Special Report by Capt. John Kumiski, copyright 2013. All rights reserved.
We were after Summer Seatrout in Mosquito Lagoon. The eastern sky was streaked with rose and salmon, growing brighter each moment. Mosquitoes buzzed around our heads and wading birds squawked at us. "I've been finding some good fish in this slough lately," I whispered. My son Alex cast his lure ahead of the boat. The jerk bait hit the surface of the water with a soft splat. It must have attracted the attention of a hungry predator, because Alex's rod doubled over before he even had a chance to move it.
Strategies
Spotted seatrout feed year round in the waters of Florida's Mosquito Lagoon. But they spawn, and therefore get fattest, during the long, hot days of summer. Here are some strategies for catching summer trout.
It's important to be out at first light. The trout feed along shorelines and drop-offs at night. As the sun gets up the fish will ease out into deeper water. Be fishing at first light when the fish are still in shallow water.
Sometimes they move back onto the flats during the early afternoon and bury into the grass to shade their eyes. In the main portion of Mosquito Lagoon there aren't any docks or other structure to provide shade for these fish, so they have to use the grass. If you're lucky you can find them up on the flats for a good part of the day.
You have to be absolutely quiet. Trout, especially gator trout, are very spooky fish. Any type of banging or even loud conversation will give them a bad case of lockjaw, especially if they are in skinny water.
I prefer using artificials for these fish, although live bait has its fans. You should always use a lure which you know how to work and in which you have confidence. My own favorites are five lures made by DOA, the three inch Standard Shrimp, the TerrorEyz, the Bait Buster, the AirHead, and the CAL Jerk Worm. The Shrimp can also be used under a clacker float, the noise of which attracts the trout to it. It's a deadly combination, and DOA markets the rig as the "Deadly Combo."
Jerkbaits are awesome for shallow water fishing. They can be worked through thick grass in water only 10 or 12 inches deep and stay pretty weed free. And fish eat them really well. Retrieve them fairly slowly (usually), giving action to the bait by working the tip of the rod. The baits dart and flutter. Trout can't resist them.
The AirHead has a fat silhouette and killer action. It's fished much the same way as a jerk bait. Rigged with a single hook, it's almost completely weedless. Big trout love it.
When the water is a little deeper, to about 30 inches, I prefer the three inch DOA Shrimp. The plastic shrimp is extremely effective, usually more so than a live shrimp. You can swim it more naturally than you can a live shrimp, and you can certainly cover much more water with it. Sometimes a fast retrieve, with the shrimp just barely leaving a wake on the surface, works best. Other times you can just let the bait drop into a sandy hole on the bottom and the fish will pick it up. You can work it very erratically, with frequent twitches. It's a tremendous finesse bait.
The DOA TerrorEyz is used in deeper water, from three feet on. Fish it just like a jig, which in essence it is. Fish it with an erratic retrieve. It's got a tight wiggle the fish can't seem to resist.
Use the Deadly Combo in the same places you'd use the TerrorEyz. You'll catch a lot of shorts on this rig, but enough big ones are caught to keep you motivated.
Surface plugs can also account for a good number of fish. The Heddon Zara Spook, the Rebel Jumping Minnow, the 7M Mirrolure, and the Bagley Jumping Mullet are all effective, especially if you get that early start. The DOA Bait Buster, a mullet imitation, is an excellent single hook soft plastic bait for big trout. When the floating grass is bad you can work the Bait Buster where a plug with gang hooks just won't work.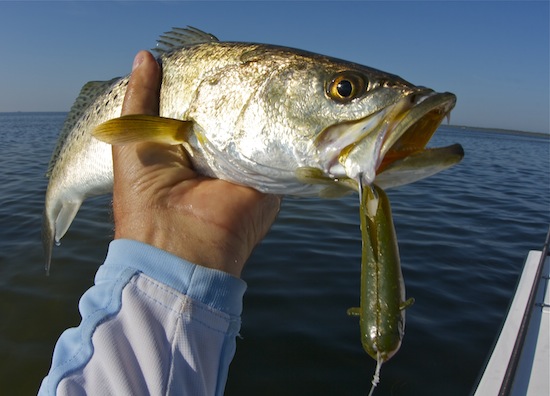 Fly rod poppers and streamers also account for some nice fish for those who prefer using the long rod.
Finding Fish
These fish will be in one of three places. They're either out over the sand near the edge of the grass, right on the edge between the sand and the grass, or up over the grass itself. I fish these areas in succession until I locate the fish. If you fish in an area for awhile and you don't get any strikes, it's time to move and look elsewhere.
Any time you see schools of finger mullet, trout could be shadowing them. Working surface plugs around mullet schools early in the morning (first light early) is a long established technique for summer trout here.
Mosquito Lagoon has a number of bars which provide obvious structure along which summer trout can frequently be found. Georges Bar runs east and west across the north end of the lagoon basin, and is easily discerned in aerial photos, such as those found on Google Maps. Tiger Shoal, easily found by motoring east from ICW channel marker 25 is another.*  About a mile east southeast of the eastern end of Haulover Canal is yet another bar, which is apparently unnamed.
Farther south, on the east side of the lagoon, is Turtlepen Point. A long bar extends to the northwest from this feature. And near the south end of the lagoon the Middle Flats (now often referred to as the Whale Tail) is an excellent area to fish for big trout.
Still another series of structures that frequently hold summer trout are the spoil islands on the west side of the lagoon, between the Haulover Canal and Oak Hill. The best area here are the islands that have deep water between them, allowing the fish easy access fro deep water to the flats behind and back out again.
Other than hiring a guide who knows where the fish have been holding, there's no substitute for putting your time in and searching all these areas until you turn up some fish. Unfortunately summer trout fishing with artificials here is at its best for an hour or two in the morning, which doesn't doesn't give you much time to hunt.
*Tiger Shoal is now in a large pole/troll area, where internal combustion motor use is not allowed. You can pole in, or use an electric trolling motor only. It's clearly marked with eight foot high, six inch diameter PVC pipes.
Conclusions
Although not as good as in the "good old days", Mosquito Lagoon is still one of the best places in Florida to catch big trout. Summer is a prime season. Keep in mind some other fish like crevalle, redfish, or even tarpon may interrupt your search for trout (not necessarily a bad thing!).
Try the strategies suggested in this Special Report, and watch your Summer Seatrout in Mosquito Lagoon score soar!
Call for more information about your Florida fishing trip TODAY! 407.977.5207
If you found this article useful and would like to donate to Spotted Tail, please click here…