Brief History of the Johnson Minnow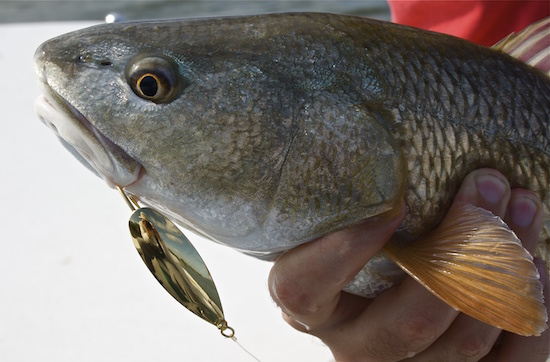 Reader Chuck at BellSouth sent me a question about my three favorite lures for blind casting in the lagoons. My response was:
-the Chug Bug
-the Johnson Minnow
-the DOA Deadly Combo
Chuck replied with the following:
"Thanks for tips!
"Would have never guessed the old Johnson Minnow spoon would make the list. But after doing some research on this lure, I now understand why it works well in Mosquito Lagoon.
"You might be interested in the history of the Johnson Silver Minnow and why it's unique design makes it so successful."
Silver Minnow is still shining after 73 years
The Johnson Silver Minnow, one of the most enduring and successful fishing lures of all time, was invented in 1920 by Louis Johnson, a retired Chicago foundry operator. The lake where Louis and his son fished was full of fish, but it was also weedy. So, with the practical style of many creative Midwesterners, he set out to develop a fishing lure that would not catch weeds but still catch fish.
The result was the first spoon lure with a weed guard, stiff enough to keep weeds away from the hook, but flexible enough for bass and pike to get hooked. In fact, his experimental spoon lures were made from silver table spoons with the handles cut off and a Scents hook and weed guard soldered to the concave underside. History does not record whether these first spoons were silver plate or genuine sterling, but the idea of having a fishing lure made of silver caught his imagination. Seventy-three years later, the Johnson Silver Minnow is still plated with real silver.
Like other spoon lures of the day, the Johnson Silver Minnow was designed to imitate the flashing movement of a minnow. Other manufacturers had long incorporated flashing spinners into the design of their lures, but Louis Johnson's new lure was the first to integrate a guarded hook onto the spoon, and the first to use real silver for a whiter, brighter flash than chrome of polished steel.
Johnson didn't work with his "table spoon" very long before the learned something else about designing the perfect weedless lure: hooks that faced up were less weedy than hooks that faced down or spun around from the lure's action. Even a guarded hook would catch weeds occasionally if it was retrieved with the hook facing down. Johnson reasoned that if he could figure out a way to ensure that the hook would always face up, the lure would be almost completely weedless.
Putting his years of foundry experience to work, Johnson decided to forge a spoon of a special copper/zinc alloy that was thicker in the middle than on the edges. With its weight concentrated along its centerline, this created a spoon that would rock back and forth as it was retrieved, but always keep the convex face down and the hook facing up. Other spoons of the day were simply stamped out of brass or steel. They often just spun through the water as they were retrieved. In fact, much of the Silver Minnow's weedlessness can be attributed to the way in which the downward-riding spoon itself acts as a weed guard — and simply rides over weeds much like a water skier rides of the waves.
By getting the lure to keep its convex spoon side down and it hook up, Johnson also unwittingly made the lure visually effective under water. When retrieved, Johnson's Silver Minnow rocks back and forth through a 270 degree angle, flashing reflections downs and to both sides, but not up. Since fish almost always attacked a lure from below or the side, there was no need for it to be visible from above. That meant that the lure could produce more flashes in the right directions per retrieve than stamped metal spoon lures.
Yet another benefit of the rocking spoon-down motion was that anglers no longer had to worry about line twist or special swivels. Spinning spoon lures used without swivels twist fishing line, and contribute to backlashes and tangles. To this day, Johnson Silver Minnows are manufactured with a simple soldered wire eye. Line can be tied directly to the lure without fear of line twist. The one exception would be when using the versatile Silver Minnow for" pike or muskellunge. Since even medium-sized pike will often inhale the entire lure, it is wise to use the lure with a short steel leader.
The Silver Minnow's rocking motion also helps control the sinking rate when cast. Whereas many spoons simply dive to the bottom tail first, the Silver Minnow gently drops horizontally, rocking in its characteristic motion. This gives an angler ample time to take up the slack after cast and begin the retrieve before the lure has had a chance to bury itself in weedy cover, or behind a log. This feature also makes the lure effective the second it touches the water. Many strikes on the Silver Minnow come as the just-cast lure is rocking gently toward the bottom.
Trailers and the Silver Minnow.
The Johnson Silver Minnow is a deadly lure when fished plain, but when it is combined with a trailer, it is especially effective in triggering strikes. In addition, the Silver Minnow's unique rocking motion is not affective by a trailer like many other spoons are.
For traditionalists, a pork rind trailer of red/white or yellow/white is one of the best combinations. Adding a red 3-inch waving tail imitates the red gill rakers that would show on a wounded or distressed bait fish. This works like a visual "dinner bell" to a predatory fish, who would rather attack a slower, "wounded" fish than try to catch a fast, healthy one.
But red is not always the color of choice. Often some experimentation is needed to find out what color of trailer will be working on that day, in that lake, on that particular species of fish in that particular kind of cover. Newer plastic trailers are more convenient than the traditional pork rind, and can be carried in a great variety of colors with less weight and bulk. Soft plastic Silver Minnow Trailers in a variety of colors, are now marketed by Johnson Fishing for use with all Silver Minnows.
The Silver Minnow Today
The Johnson Silver Minnow is still manufactured in the same way it was in 1920 — by hand — and still plated with real silver for the brightest possible underwater "flash." Originally manufactured in Chicago by the Louis Johnson Company, the lure was purchased by Johnson Fishing Inc. of Mankato, MN in 1974. In 1976, manufacturing facilities were moved to Johnson Fishing's Bass Buster Lure division in Amsterdam, MO. The Silver Minnow continues to be one of the best selling lures of all time.
Source:
Gettysburg Times, August 11, 1993
————————————————–
And that is a brief history of the Johnson Minnow. The Johnson Minnow has been in continuous production longer than any other fishing lure in history. There just might be a good reason for that.
Thanks for the great response, Chuck- I was able to turn it into a blog!
John Kumiski
Related articles