HOW AND WHERE TO CATCH REDFISH in the Indian River Lagoon System
by Captain John Kumiski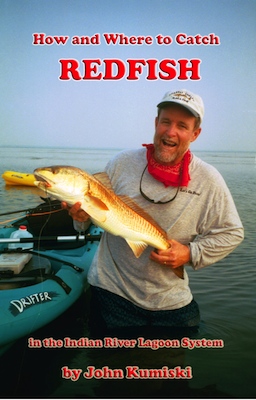 How and Where to Catch Redfish, small enough to fit in your tackle box, is your personal "good luck charm" when it comes to Indian River Lagoon system redfish. If you want to catch more and bigger reds, YOU NEED THIS BOOK!
Here's an unsolicited email from Earl Gillespie:
"I want to thank you. I just finished reading How and Where to Catch Redfish. It was so satisfying to read a fishing book that was actually attempting to share information with the reader, as opposed to being nothing more than, a) an effort to impress the reader with his 'let's go kill a bunch of big fish' attitude of the author, and/or b) using the book as the same medium as a sales brochure. You wrote this book for sharing information, and I deeply appreciate that. Please keep up the good work!"
Here's another, from Bob Marinelli-
"Just read it cover to cover. Great stuff. Like your style. Especially liked how much time you spent on catch and release."
 How and Where to Catch Redfish in the Indian River Lagoon System, by Capt. John Kumiski. 8.5″ x 5.5″, 96 pp., paperback. $12.95.
Return Policy
We understand that you are buying our books sight unseen, and we want you to be happy with your purchase. All of our books are unconditionally guaranteed. If your book doesn't meet your needs, return them to us for a complete refund of the purchase price (and sales tax, if applicable), as long as the item is returned in saleable condition.
Please note that we cannot refund shipping costs.