Fishing Florida's Space Coast- An Angler's Guide
(Ponce de Leon Inlet to Sebastian Inlet)   by Captain John Kumiski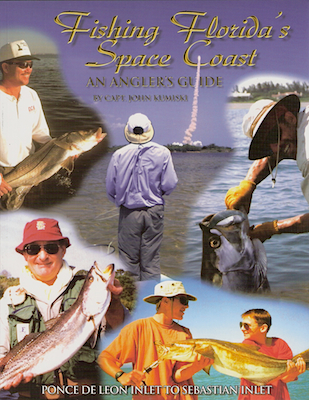 Do You Want to Catch Fish on Florida's Space Coast?
This stretch of Florida's Atlantic Coast and the adjacent Indian River Lagoon system between Ponce de Leon Inlet and Sebastian Inlet offers world class angling for redfish, black drum, spotted seatrout, tripletail, and more. In addition, snook, tarpon, cobia, Spanish and king mackerel, little tunny, jack crevalle, bluefish, barracuda, sharks, and many other species can be found in these waters at various times of the year.
Do you know how to catch them? After reading Fishing Florida's Space Coast, you will.
This book will make you a better fisherman. You will learn:
-How-to choose rods, reels, lines, lures, baits, rigging, and techniques that work here.
-When to fish. The fishery changes with the seasons. Fishing Florida's Space Coast will help you adjust your strategies.
-Where to fish. Aerial photographs with text descriptions pinpoint hot spots all along the Space Coast.
Many of the Space Coast's finest fishing guides shared secrets contained in this book, such well known anglers as Eric Davis, Kent Gibbens, Fred Hill, Mike Hakala, Terry Parsons, Rodney Smith, and several more.
"I've owned and repeatedly referenced your Space Coast book for years now and it has made me a markedly better fisherman. Many thanks!" -Jay Groom, Port St. John
Fishing Florida's Space Coast, 8.5″ x 11″, 128 pp., paperback, $19.95.
"I just needed to drop you a line and say thanks for your book. I purchased it a couple weeks ago and let me tell you it is great.  Many of my fishing spots were highlighted in there as well as countless others I didn't know about or had a chance to explore yet.  I feel your book took years off my learning curve.  In fact I used it to find my biggest school of reds to date. 
"Once again thanks for your book.  I'll be out there relying on it to help me find more fish.  Please let me know if you recommend any other books of yours that would be helpful."   – Nathaniel Lemmon
"What a great book!  I HIGHLY recommend it for visitors or residents who want to learn more about the space coast fishing!"  -Brian Vend
Fishing Florida's Space Coast,  8.5x 11,"  128  by Capt. John Kumiski    $19.95 each
Return Policy
We understand that you are buying our books sight unseen, and we want you to be happy with your purchase. All of our books are unconditionally guaranteed. If your book doesn't meet your needs, return them to us for a complete refund of the purchase price (and sales tax, if applicable), as long as the item is returned in saleable condition.
Please note that we cannot refund shipping costs.