Fly Fish Banana River Black Drum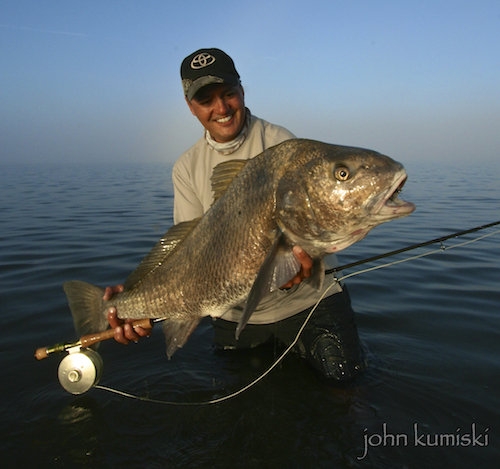 Black drum run big. If you Fly Fish Banana River Black Drum they'll probably be the largest tailing fish to which you'll ever cast a fly.
When you're in the water up to your hips and that broom-sized tail pops up, I don't care where you've been or what you've caught. Adrenaline is going to rush. The mouth will dry right up. It's exciting fishing.
The requisite fly selection for black drum is small. Flies need to sink like an anvil. A black, size 2 Clouser Minnow with a weedguard or a dark crab pattern such as a Merkin are the best choices.
You need a seven- or eight-weight outfit with a floating line, plenty of backing, and a 10 foot leader with a 15 pound tippet, almost impossible to break.
Paddle up into the Banana River Lagoon's federal manatee refuge (locally called the no motor zone) searching for them. Either a canoe or a kayak will work. Use the boat to find the fish, then wade.
The best weather is a cool, sunny day with a light north or northwest wind. The best time of year runs roughly from Thanksgiving to Easter.
You won't find them on the shoreline. Look out on the deeper part of the flat, even at or off its edge. Expect that some days you won't see any.
While tailers are what everyone wants to see, drum don't always tail. Many times you'll see cruising fish. They will still take a well presented fly.
Sometimes you find the drum as scattered singles. If you're lucky, you'll find a herd. Anytime you find some, be happy about it. Make the best of whatever situation comes along.
How far will you have to paddle? Some days only a few miles gets the job done. Other days you might have to go all the way up to the NASA Causeway, a round trip of more than 10 miles.
These fish are seldom found in a vacuum- when you see one, you can safely assume there are probably more around. Some days they're all spread out. Other days they're schooled up in a tight mass. They seem to show best in the afternoon on sunny days with little or no wind, right up to and even after sunset.
In the interest of good fly presentation it's usually better to be wading, even though the bottom may be sticky. With any wind, controlling the boat and keeping it in the best position is difficult, whether you're in a canoe or a kayak.
When you present your fly, it has to be close to and in front of the animal's head. Keep it in the strike zone as long as you can! S-L-O-W is the best retrieve for this. As soon as you think it's too far away from the strike zone lift it out and cast it right back.
Black drum have barbels on their chin and my observations lead me to believe that many times they feed by odor, with vision being unimportant. Some days they won't take a fly, or even respond to it, no matter how good your presentations are. Other times they're relatively aggressive on the fly. We have taken individual tailing fish after working them for as long as 15 or 20 minutes. When you find a good fish, keep working it until it takes or you spook it off, or until a better opportunity comes along.
When the fish takes, strip strike. After the hookup put the maximum pressure on the fish. With good technique you can whip the average 20 pound fish in 10 or 15 minutes. Bigger ones may take a little longer!
These fish have a fat handle at the tail. When you get them close enough just grab them there with a death grip and the prize is yours. You only need fingers to land these babies!
A trip into the no motor zone can be physically demanding, so don't enter into one casually. Bring food and plenty of water as well as a first aid kit. Of course, any time you fish during the day in Florida you should wear sunblock.
In addition to the black drum, redfish and seatrout may be encountered as well. So pick your date, watch the weather, and be prepared for a long, demanding, and hopefully fulfilling day!
Where to Launch Your Boat
The launch site is at KARS Park, at the east end of Hall Road, accessed off of SR 3 north of SR 528. There is a $5.00 per boat fee. Access is closed once the parking lot is full. The launch area is very muddy- expect to get dirty. While you may end up paddling a long way, start looking for fish immediately. Good luck as you Fly Fish Banana River Black Drum!
Copyright © John A. Kumiski 2013. It is illegal to reproduce or distribute this work in any manner or medium without written permission from the author, John A. Kumiski, 284 Clearview Road, Chuluota, FL 32766 (407) 977-5207.