Thirteen Lucky Tips for Better Fishing Photography
The question frequently comes at me, "What kind of camera do you use?" Here's the answer, and some tips for better fishing photography.
I carry two Canon digital single lens reflex (dSLR) bodies. One is fixed with a wide angle Tokina 10-17 mm zoom lens, an awesome piece of equipment. The other carries a telephoto Canon 70-300 mm zoom lens, likewise simply awesome. I also carry a Canon 18-55 mm lens in my camera bag. Some people prefer Nikon or other brands. Use what you have and add to your kit as you see the need.
My camera bag is a Simms Dry Creek backpack. It's lined with pieces of an Ensolite sleeping pad cut to fit the pack. The cameras and lenses are wrapped in towels for protection. While walking or wade fishing the cameras can stay dry on my back, quickly available if an opportunity comes up.
Because I learned this way I usually shoot on the shutter preferred mode. I set the shutter speed and let the camera set the aperture. Spend some time learning what the camera is doing for you, regardless of what shooting mode you prefer.
Here come the tips for better fishing photography. Once you understand what's happening inside those little black boxes feel free to break these rules.
1a. Set the ISO on the wide angle lens body to 100, and don't shoot at a shutter speed less than 1/60th of a second.
1b. Set the ISO on the telephoto lens body at 400, and don't shoot slower than 1/300th second.
2. Keep the lenses and the camera sensors clean. A blower brush, a package of lens tissue, and a small bottle of lens cleaner are the minimum maintenance requirements.
3. Fill the frame with the subject.
4. Pay attention to the light- direction and quality. Fish and many other things photograph best when the sun is low in the sky. Human faces also photograph well when light is diffuse, such as with high overcast.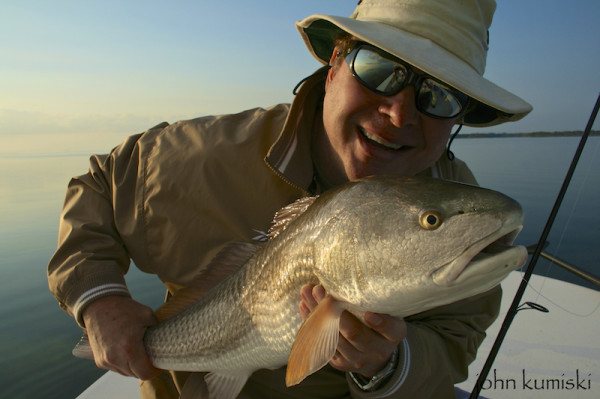 Early morning light photographs beautifully.
5. Take pictures of people fishing, not just grip and grins. Don't forget release shots.
6. Take close-ups of tackle and lures, not just folks holding fish.
7. Take close-ups of caught fish. Don't ignore parts that don't have eyes.
8. Focus on eyes of whatever it is you're photographing if they're in the frame.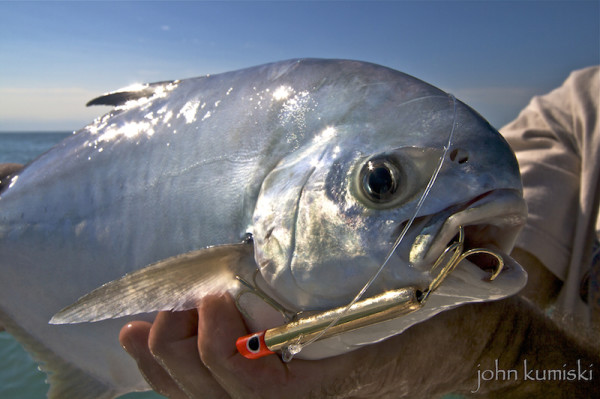 9. Take LOTS of pictures when you get a good opportunity. Often one of 20 or 30 is clearly the best.
10. When taking grip and grins, have the gripper howl (or some other stupid thing). Sometimes the howling makes the photo. Sometimes the laughter that follows does.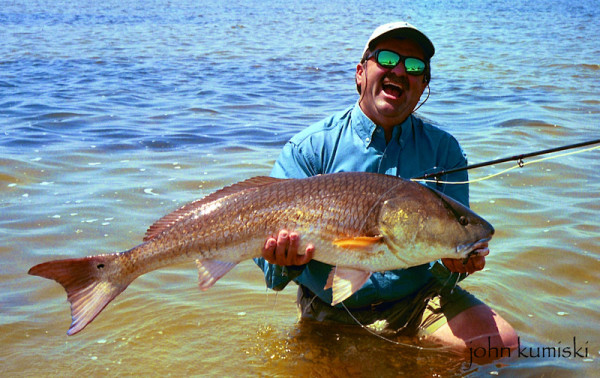 11. Delete any photos that aren't good. No one wants to go through 95 crappy shots to see the five good ones.
12. Fish can't breathe when they're not in the water. If you intend to release the fish do not beat it up!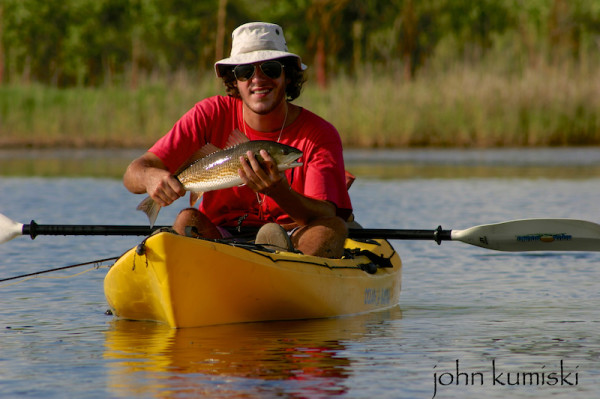 13. Subjects wearing red or yellow will photograph better than any other color.
Those are some of our tips for better fishing photography. If you have other tips not mentioned here (and there are plenty), please feel free to share them with us!
John Kumiski
http://www.spottedtail.com
All content in this article, including writing and photos, copyright John Kumiski 2014. All rights are reserved.




If you found this article useful and would like to donate to Spotted Tail, please click here…