Redfish on the Fly- A Comprehensive Guide
by Captain John A. Kumiski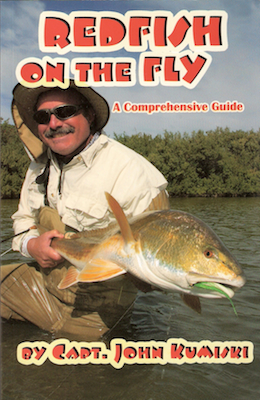 The award-winning Redfish on the Fly will make you a better fly fisherman!!
In its 288 pages, this comprehensive guide to catching redfish with fly tackle will share with you the secrets of:
-how the fish behave
-what tackle and flies to use for every condition
-how to find and see fish
-how to properly present the fly
-what NOT to do
-tricks and tactics for skiff fishermen, paddle fishermen, and wade fishermen
-how to find and catch BIG reds
-how top fly fishing guides in every state find and catch redfish
If you want to consistently catch redfish with a fly rod this book is just what you need! In its four all-inclusive sections, Redfish on the Fly easily teaches you how to catch more redfish by sharing these secrets with you:
-how to understand the fish
-how tides affect the fish
-how to find and see the fish
-what tackle to use and how to use it
-how to present the fly
-tactics for wade and boat fishing
-what NOT to do
-hunting for big reds
-seatrout, black drum, flounder, and other "distractions"
Redfish on the Fly features interviews with dozens of top redfish guides!
Redfish on the Fly won First Place in the annual Florida Outdoor Writers Association Excellence in Craft Contest!
Capt. John Kumiski has been guiding redfish fishermen for over 20 years and touches every page of this book with his wealth of knowledge and experience. Put his expertise to work for you! 
—————————————————————————-
Don't take our word for it. Read the reviews and letters!
Redfish on the Fly, A Comprehensive Guide by Capt. John Kumiski
"Great book!  The way you organized everything was incredibly clear.  I
finished the book with a better understanding of how the fish behave,
how to catch them, what flies to use, and where to catch them.  The last
section that covers popular redfish destinations allows the reader to
borrow and learn from techniques that work in different parts the
country.  Throughout the book, your wry sense of humor and personal
insights make this wealth of information a pleasure to read.  I can't
wait to put this newly acquired knowledge to the test!"   – Joshua Kaiser
"This is the most definitive work I've seen on shallow water redfish."  -Bob Stearns
"My wife bought your book for me.  I've spent the last couple of days curled up reading it rather than fighting the weather. I really like your writing style.  I  have thoroughly enjoyed the book and gained a lot of insight. Thanks again!"
-Dick Beal
"Just finished your book, "Redfish on the Fly". Very interesting and instructional. I really enjoyed your chapter and periodical references to using the kayak. Thanks again, great book. Permanent fixture in my book case."
– Robert Knowles
"When the subtitle of a fishing book reads, 'A Comprehensive Guide' I tend to view it with a healthy dose of skepticism. Often these compendiums are out of date and out of touch with the everyday angler's needs. Saying that 'Redfish On The Fly' makes good on its promise of being comprehensive would be an understatement. After reading it I felt that I had gained an excellent head start on my trek to catching a bull red on the fly."
-Lee Murdock, Editor, flyfishmagazine.com
Read  Lee Murdock's review here…
Redfish on the Fly- A Comprehensive Guide, by Capt. John Kumiski, 288 pages, paperback, $27.95.
Return Policy
We understand that you are buying our books sight unseen, and we want you to be happy with your purchase. All of our books are unconditionally guaranteed. If your book doesn't meet your needs, return them to us for a complete refund of the purchase price (and sales tax, if applicable), as long as the item is returned in saleable condition.
Please note that we cannot refund shipping costs.