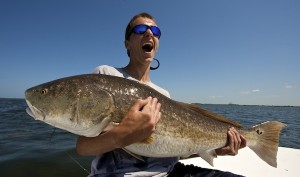 Next Mosquito Lagoon Show and Tell Fishing Seminar- ????
Due to damage from Hurricane Irma, most of the Merritt Island National Wildlife Refuge remains closed. This precludes any but the on-the-water show and tell seminars…
Do you want to catch more redfish, seatrout, and other species in the Indian River and Mosquito Lagoon? Attend an all day Mosquito Lagoon Show and Tell Fishing Seminar with Capt. John Kumiski, held on the Merritt Island National Wildlife Refuge, and learn a guide's secrets for finding and catching redfish, seatrout, snook, tarpon, and more. This seminar will be on October 15, 2016, from 8:30 until about 3:00.
Capt. John says, "I run these seminars to help people catch more fish in the Indian River and Mosquito Lagoons. What we do is drive along the dike roads that run along the shore of the lagoon system, stopping periodically to discuss tackle, tactics, techniques, and locations for fishing for redfish, seatrout, and other fish in the lagoon system. We cover knots, rods, reels, lines, lures, and baits, as well as how to fish those lures and baits. We visit all the boats ramps, canoe/kayak launches, and wading access points in the wildlife refuge. You will learn more in one day than you could in a year on your own!"
Here's what attendees at past seminars had to say:
"Thanks for the seminar, John. It was informative and enjoyable. I had been wanting to go on one for years. I especially enjoyed seeing the area south of Biolab. I was also happy to hear about the tarpon in winter in the canal." -Roger Cook
"I found your seminar very informative and I learned a lot of important information.  I just wish I could go out and try it all out, but I am still employed and have to go to work.  I am thinking of being sick so I can go out fishing tomorrow and try out some of the techniques." -R.S. Pence
"I just wanted to write and thank you again for the seminar on Saturday. It would have taken me at least a year of scouting to learn what we did in nine hours from you, and that's just the information on when and where to catch fish. The instruction on techniques and tackle would take years of experimentation to learn on my own!" -Steve Crowder
"I want to thank you for a very interesting fishing seminar! I learned a great deal about our resident redfish, and can't wait to apply what you've taught me." -Jeff Graybeal
"I really enjoyed your fishing seminar yesterday. I am a fly fisherman from the rivers of the Pacific Northwest, so I learned a ton about shallow salt water fishing. It will be invaluable to me as I begin to explore the Space Coast." – Mark Mielbrecht
"A couple of friends attended your Show and Tell yesterday. Rave reviews. Mark was effusive in his email about the whole experience. He can't wait to get back out. Every time I send someone your way they come back a satisfied customer. Nice job!" -Mike Adamson
"I really enjoyed Saturday. You made it really hard to go back to work instead of fish!" -Greg Rhodes
The cost for the all day seminar is $60 a person, with children 12 and under free. Cost includes a free copy of Fishing Florida's Space Coast!
Come and spend a day learning how to fish the wildlife refuge with Capt. John!
For more information call John Kumiski at 407-977-5207, or email him via the contact page.
After you register you will receive a confirmation explaining where and when to meet, what to bring, and a syllabus so you know exactly what to expect.
To Register Now,
Thank you for your interest and I look forward to seeing you there!