Orlando Area Fishing Report
Upcoming Events-
–Space Coast Birding and Wildlife Festival, January 23-28, 2013
– Merritt Island National Wildlife Refuge Clean-Up, February 9, 2013. Contact Nancy Corona, 321-861-0668 or nancy_corona@fws.gov
-Titusville Surf Fishing Workshop, Wednesday, March 6, 6-8 pm. There are several other surf workshops coming up along the Space Coast in the next two months. For more information please email Rodney Smith irlcoast@gmail.com
–Mosquito Lagoon Show and Tell Fishing Seminar, MINWR, March 2; On-the-Water Show and Tell Seminar, March 3
Bumper Sticker of the Week: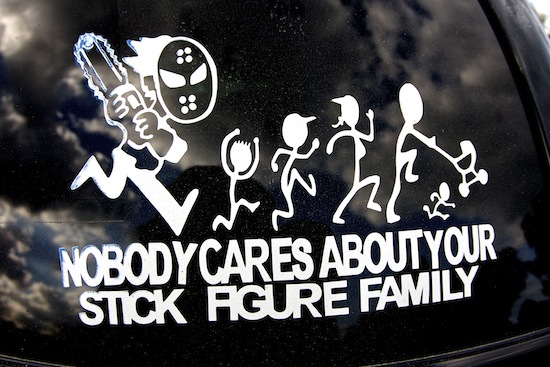 We did some fishing this week, folks.
On Monday Tom and Joyce Moore, Green Mountain state folks, joined me for a day's fishing on the Mosquito Lagoon. Tom got a nice redfish on a jerkbait right out of the gate. Then we had to work, as the fish seemingly disappeared. We got several trout and another redfish on DOA Shrimp.
Fish Story of the Week:
Tom was using a DOA Deadly Combo when he had a powerful strike. The fish took off and the leader parted. We could see the bright orange float as the fish swam off with it. Inexplicably, the fish turned around and came back towards us.
Tom tried to hook the line between the fish and the float, but the DOA Shrimp was a poor choice of baits for that particular task. I climbed down off the poling tower and tied on a Sting Silver and snagged the rig on the second cast. Joyce reeled the fish in, a beautiful 26 inch seatrout. We got our Deadly Combo rig back, photographed and released the fish.
On Tuesday Cincinattian Steve Horgan joined me for the first of four days of fly fishing. Steve describes himself as a "multi-species fisherman", which means he is interested in catching as many different species on fly as he possible can. So that was our goal for the week.
Tuesday found us on the Mosquito Lagoon. In the morning the weather was perfect, very few clouds, very little wind. The redfish were thick, lots of schools, but very spooky. There were quite a few boats about. We stalked schools of both tailing and cruising redfish for about five hours. We did not get one. Steve had only one bite during that time. A three or four pound black drum took the crab fly. Steve had his first specie of his trip.
Early in the afternoon it got windy and cloudy. We fished in several spots trying to get a redfish and/or a seatrout. We failed to do so. It was a frustrating day, after seeing so many hundreds of fish.
Wednesday morning Steve and I drove down to Sebastian River and launched the boat. Tarpon were rolling 100 yards from the boat ramp. Like Sebastian River tarpon usually do, they laughed at everything we tried. We gave up.
I idled down to the ICW and ran through Sebastian Inlet, hoping it would be calm enough for us to look around out there. It was definitely not. We tried floating the flats inside the inlet. There was no grass, no bait, and no activity. We saw nothing and did not get any bites so we headed back into Sebastian River.
I poled while Steve banged the shoreline with a streamer. He ended up with seven snook, three mangrove snapper, and a couple of ladyfish, all new species for him. We went back to where the tarpon were and tried various things for another hour plus but did not get a bite. I was hoping we'd get a crevalle and maybe a redfish, but neither of those happened, either.
It was nice being there, but in my opinion not worth the drive as far as catching fish went.
Thursday we went to Mosquito Lagoon. We found a school of redfish. They were not showing themselves very well. We played cat and mouse with them for a couple of hours. Steve had some good shots but the fish didn't bite. As the wind got harder I lost the fish, so went and looked in a couple other places. I saw very little.
We pulled the boat and went to the Indian River. By now it was blowing about 20 mph. There were no groups of fish and Steve had trouble seeing the singles I found. We'd blow right past them without a shot. We ended up completely skunked, wet from the rain and wind. It was a really tough day.
Friday found us at the St. Johns River. The temperature was in the high 40s when I launched the boat, with a 15 mph wind, which increased in force as the day went on. Fishing was s-l-o-w. Steve did get a nice shad on a bucktail streamer.
I got a couple little ones on a wooly booger. He got a few bluegills. I got a small crappie and a small channel cat. It rained intermittently. We worked hard all week and really didn't have a lot to show for it.
Steve did get five new species, but we failed to get either a trout or a redfish for him. Thank you for your patience, Steve- it was wonderful fishing with you.
My fisherman for Saturday postponed his trip because of the wind and clouds.
And that is this week's exciting version of the Orlando Area Fishing Report.
Life is great and I love my work!
Life is short. Go Fishing!
John Kumiski
http://www.spottedtail.com
All content in this blog, including writing and photos, copyright John Kumiski 2013. All rights are reserved.