Orion Cooler Review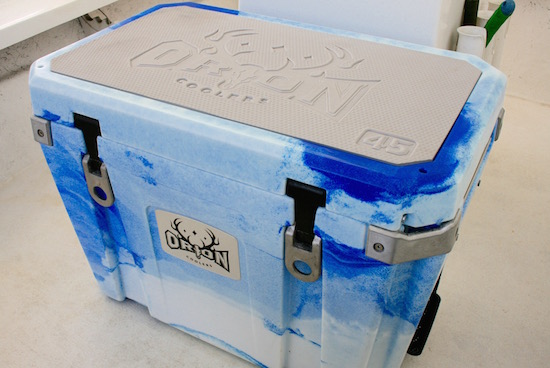 The Orion 45 Cooler has been in use in Spotted Tail for about three weeks now, long enough for me to state categorically that it's the finest cooler I've ever seen. I can write a knowledgeable Orion Cooler review! There is also a Yeti cooler on Spotted Tail, so it's easy to make comparisons. And I have used Coleman and Igloo coolers for decades. Their quality is such that they are completely out of this discussion.
Orion Coolers come in four sizes. The Orion 45 is versatile, well suited to everything from day trips to week-long outings. Whether by canoe, truck, motor boat or RV, the 45 is sized for high portability, while still having the ability to carry common items like two litre bottles or a case of cans.  It makes a great standing platform for casting!
Orion coolers have a number of features and innovations unique to the rugged cooler market. There are a lot of premium coolers.  They all look alike. Orion doesn't. Orion introduced multi-color, camo plastic blends to the cooler market, making every single Orion cooler unique.
Each cooler has YakAttack gear tracks on each side for easy customization via RAM accessory integration, a key innovation that allows you to add holders for fishing rods, phones, cups, fish finders, GPS and more.
To help hold the cooler in place are six tie-down points (four of which are bottle openers), giving multiple ways to secure your cooler. Holding all your cold items secure are low-profile, camming latches that are hinged for ease of use and snag-free when loading or using the cooler as a fly fishing casting platform. Orion Coolers are all lockable via padlocks on the corners, both to secure the cooler, and to seal it shut, and are bear proof following IGBC (Interagency Grizzly Bear Committee) certification criteria.
On the top of the cooler is a standing pad for traction, seated comfort and a look distinctly Orion. The strong and comfortable rope carry handles give long-lasting comfort and sure grip in tough conditions.
Every Orion cooler is made in the USA with a rugged, roto-molded polyethylene shell built to give you years of service. Underneath that rugged exterior shell, Orion Coolers have at least two inches of insulation to keep what's cold, cold. My two quart freeze bottle stays frozen for at least three days.
Inside the cooler you will find a solid thermoformed plastic tray, not the standard wire mesh trays you will find elsewhere.  It allows for drainage, but won't let your smaller items fall through.
Lighting your way is a removable, Princeton-Tec AMP1 light, helping you see in the cooler at night or diminished light conditions. Use it in the cooler, or remove it for use around your camp at night.
This cooler is built like a bomb shelter. You will never wear it out.
Cooler story- last week I had two fishermen in my boat, which was part of a corporate three-boat charter. One of my fishermen was texting with his iPhone. He put the phone down on top of the Yeti, which is secured on the front deck of my boat. At that instant a fish hit. The boat rocked, and the phone slid off the Yeti into the water.
If the Orion had been mounted up there the phone would not have moved. The Orion has a tough, closed-cell foam standing pad on top.
Orion Coolers have a website, of course. I suggest you visit. Its URL is http://www.orioncoolers.com.
Orion Coolers have my highest recommendation. And that is my Orion Cooler review.
John Kumiski
http://www.spottedtail.com/blog
https://www.smashwords.com/profile/view/jkumiski
All content in this blog, including writing and photos, copyright John Kumiski 2015. All rights are reserved.