Another Story Orlando Fishing Report
The shad are still strong. The Mosquto Lagoon, well that's another story, for another story Orlando fishing report.
The Paddle Fishing Seminar at Kayaks by Bo on January 27th  was a resounding success. The place was packed and I was my usual effervescent self. Tom wants to do some more fishing seminars, perhaps monthly.
The Indian River Lagoon Chronicles is now available as a paperback book!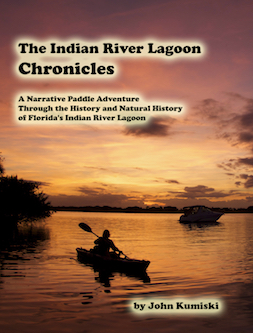 Monday
Tammy and I went shad fishing out of Mullet Lake Park. For all of you who were wondering what an Al's Goldfish was, I got a photo. We laughed a lot and caught a lot. It was good.
Wednesday
Rodney and I went shad fishing out of CS Lee Park. We laughed a lot and caught a lot. It was good.
I have often heard and read that like salmon, shad don't eat while on their spawning run. Not true! I have often seen them aggressively chasing minnows, and on Wednesday we had shad spit up wads of mosquitofish into my boat. I got a photo of one of the minnows, quite small they are…
Thursday
Since I had a charter of Friday I used Thursday to scout the Mosquito Lagoon. I launched at Biolab, ran south, then went up the east shoreline checking most of the bars and holes, all the way to Georges Bar. I did not see a trout. I did not see a redfish. I hardly saw any seagrass. I did see a single, small (10-12 fish) school of large black drum.
On the way back south I checked several spots along the west side of the lagoon. They were equally barren. At the last spot I checked I saw four small seatrout, the first I'd seen all day. My optimism for the following day was pretty low. I stank like a skunk all the way home.
Friday
Vic and Dan Gulla, Wisconsinites (?), met me at River Breeze. We found schools of redfish at the first place we went. Unfortunately there were four other boats there. The fish were in a panic. The other boats, tossing live shrimp, managed two while we were there, which was not very long.
We saw scattered fish all morning, missing one strike during that time. Finally, about 1100, Dan got a decent trout on a plastic shad. A while later Vic answered with a solid redfish on the same type of lure. Fish, mostly small ones, came steadily for the rest of the day, with several caught on fly.
It was a lot better than I thought it would be.
And that is the another story Orlando fishing report.
Life is great and I love my work!
Life is short- Go Fishing!
John Kumiski
www.spottedtail.com
http://www.spottedtail.com/blog
www.johnkumiski.com
www.rentafishingbuddy.com
https://www.smashwords.com/profile/view/jkumiski
All content in this blog, including writing and photos, copyright John Kumiski 2018. All rights are reserved.