Poppers for Seatrout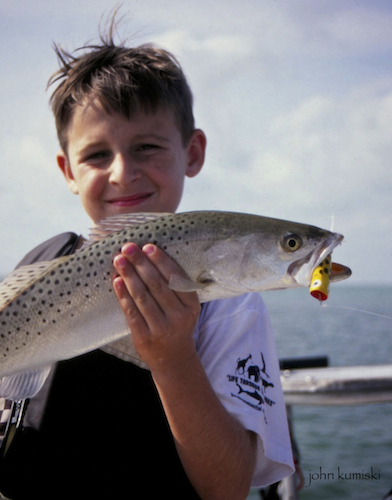 Lovely when alive, tasty on the table, spotted seatrout are one of Florida's favorite saltwater fish. The problem is, unless you find a really big one (not easy to do) trout are weaklings at the end of your line. They just don't get the adrenaline going. But you can make trout fishing more fun by using poppers for seatrout.
There's the visual aspect of using the plug. You can see the lure, and you can see the fish hit it. There's the very satisfying "Smack!" sound when a good fish takes it. Believe it or not, the missed strikes are fun, and sometimes a fish will hit it four or five times in a row until the hook finally sticks, or doesn't.
As in all things in fishing there are a variety of plugs on the market that will work. For most of this type of work I like a popping plug, and the Chug Bug (made by Storm Lures) is probably my favorite. Not only does the "pop" of this lure attract the fish, but it has rattles inside for extra attraction power. It calls the fish to it from quite a distance and there's something almost magical about its appeal to seatrout. Of course, redfish, snook, tarpon, and crevalle will whack it too. I've even caught snapper with them.
Another excellent surface lure for seatrout is the DOA Shallow Running Bait Buster. This soft plastic mullet imitation features a single hook, great for when floating grass or other debris makes using a lure with gang hooks impractical. While you don't get the "bloop!" of a Chug Bug you fish it much the same way.
During the summertime (coming right up!) your best strategy is to get out early (before sunrise) and find a flat that's about two feet deep with a bottom that has a mixture of sand and grass. Lots of mullet in the vicinity are a definite plus. Working around the edges of bars or docks is also a very good idea. If you're in a boat you can drift, use a trolling motor on slow speed, or push the boat with a pushpole. Waders can have good success too, though.
Cast the lure as far as you can, and work it back to you. How fast should you retrieve? How hard should you pop it?
Only the fish can answer this question, and experimentation with your retrieve is the best course of action. When you find what they like best, keep doing it until it stops working.
One time when I had Michael Grant out in my boat we were both tossing Chug Bugs. I was using small, steady pops, reeling at a moderate rate, and was getting the occasional bite. Michael was using great, loud pops, reeling slowly. He was getting bites every second or third cast. Of course I changed my retrieve to imitate was he was doing and my success rate went right up.
So if you want to make trout fishing more entertaining, try to using poppers for seatrout.
John Kumiski
http://www.spottedtail.com
All content in this blog, including writing and photos, copyright John Kumiski 2014. All rights are reserved.

Related articles