Summer Solstice Asheville Fishing Report and Photo Essay
Susan and I have moved our vacation from Tennessee to Asheville, NC, where old friends Jim and Kathy Tedesco have been gracious enough to host us. And we got a bit of fishing in! And the solstice was this week! So we have a summer solstice Asheville Fishing report.
Bumper Sticker of the Week–

Sunday found us traveling on the Blue Ridge Parkway to see the incredible work (no photography allowed) at the Folk Art Center. A must-see if you're in the area.
Afterwards we went to the River Arts District in Asheville. Since it was Sunday many galleries were closed. It was still overwhelming. Some studios that were open had artists at work, fascinating to watch. The work of three artists I found particularly interesting can be seen here-
http://www.karennoelart.com
http://www.bluefiremacmahon.com
https://www.jonasgerard.com
Monday's adventure involved climbing Chimney Rock. I will let the photos do the talking.
Tuesday Kathy and Susan visited the Biltmore Estate. Jim and I rented a canoe and floated the section of the French Broad River that runs through said estate. Of course we carried fly rods. I beat the water to a froth, got two smallmouth on a crayfish pattern. The river looked great but fishing was slow.
We were to go whitewater rafting on Wednesday (the solstice!), but this reporter erred and booked the trip for Thursday. So we went to the North Carolina Arboretum instead. I loved it, but will let the photos do the talking.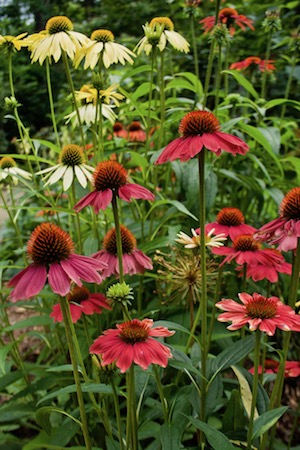 Thursday we got a rainy brush of the tropical storm making all the news. We went rafting anyway, same spot as last week, the upper Pigeon River. This time Jim and Kathy Tedesco joined us. Jim and I used to do this sort of thing all the time in a canoe (last century), but it was all new to Kathy. Afterwards she said, "Now I can say I've done it." Susan and I had a great time, for me more so than last week. If you're going to be rafting in this part of the world, Nantahala Outdoor Center has the people to see.
Friday we took leave of Asheville. Driving is not my favorite part of any trip, but the drive from Asheville to Pinehust was mostly through forests and fields, rolling hills, farm stands, corn, beans, peaches, altogether darn nice. In Pinehurst we visited Steve and Bonnie Baker. Steve taught me much of what I know of fishing in Florida and I am forever in his debt for that. Sadly he's dealing with health issues and could use your prayers.
Today we are off to Charleston. My chances of fishing next week are minimal- I am skipping next week's report. A bye week for me!
We are having a blast this week, but our vacation time is running out…
And that is the Summer Solstice Asheville fishing report!
Life is great and I love my work!
Life is short- Go Fishing!
John Kumiski
www.spottedtail.com
http://www.spottedtail.com/blog
www.johnkumiski.com
www.rentafishingbuddy.com
https://www.smashwords.com/profile/view/jkumiski
All content in this blog, including writing and photos, copyright John Kumiski 2017. All rights are reserved