Solo Skiff Review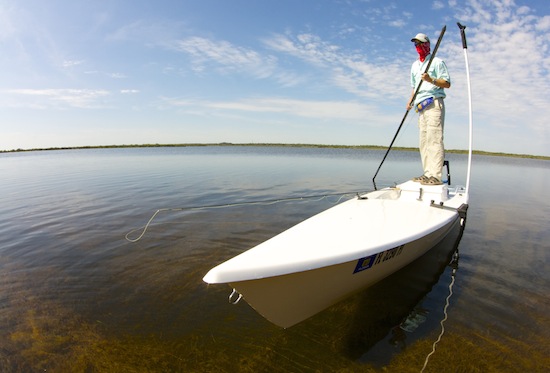 The chance came along today for me to "test drive" a Solo Skiff in the Mosquito Lagoon. I jumped on it.
The fertile boating mind of Tom Mitzlaff gave birth to the Solo Skiff. Tom brought us the Mitzi Skiff (I own one and could not be happier with it) and the Inshore Power Boat. So I was expecting wonderful things.
The boat delivered.
From a purely aesthetic standpoint, it looks cool. It's tiny (14 feet, 40 inch beam), with very clean lines. There's no transom. When (and it's when, not if) a wave comes over the bow, it just runs right off the stern.
The boat weighs a whopping 120 pounds and drafts a mere one inch of water when empty, maybe two with someone on board. For those who think this has to be BS, Tom poled his skiff through places where my kayak ran aground. It literally draws less water than the kayak. If you can't get there in a Solo Skiff, you need a bicycle.
Tom has a 3.5 HP Tohatsu on the boat we used. He assures me you can easily push it with an electric motor. He carries the spare fuel for the Tohatsu in a one quart bottle. The gas in the fuel tank combined with the spare quart gives him a running range of 10 miles, more than adequate for a day's fishing in most places.
The motor sits on a motor mount forward of the stern, which has two sponsons (Tom calls it a "split tail"). The boat really has a clever, well thought out design.
Tom launched the skiff unassisted out of the back of his Frontier. Watch the video  launchsoloskiff! We tied the kayak painter to the stern rail. Then I got in the skiff with Tom, cranked the Tohatsu, and off we went.
So immediately we maxed out the load capacity of the vessel, running the Solo Skiff down the Intracoastal Waterway with the two of us aboard and with my kayak in tow. It worked fine. We didn't set any speed records but it was lots faster than paddling.
When the water got too shallow for us to run I trimmed up the Tohatsu, then used my kayak paddle and paddled it. We were both still in it, and the kayak was still being towed. It did not paddle as easily as my kayak does. No surprise there- I ride in the kayak by myself. It was paddle-able, though.
I wanted to pole it, so we untied the kayak. Tom got in the 'yak and off I went in the skiff.
The Solo Skiff poles more easily than my canoe. It poles more easily than anything I've ever poled. It was easier to pole the Solo Skiff than paddle a paddleboard.
Wow.
You could effortlessly pole it all day. You almost have to make a conscious effort to not go too fast. And it is silent as it moves through the water. My kayak makes more noise.
Tom wanted to show me it could be fished with two in a pinch, so I moved to the front of the cockpit and he stood in the stern and poled me. The sponsons were under the surface of the water. My feet were really too close together for me to feel comfortable. It could be done in a pinch, but the boat is not designed for two.
It's a SOLO Skiff.
Storage space is more than adequate. A single, watertight hatch amidships gives access to the interior of the vessel. Required safety gear, spare fuel, water, tackle, phone, raincoat, etc., will all fit in here if packed carefully.
Tom's skiff is anchored with a Wang Anchor. Stoppage is instantaneous.
So the vessel is beautiful, highly functional, and very affordable.
I told Tom I loved the boat today but will hate it in 10 years, when everyone is using one to get into my farthest-back, most secret fishing spots.
If you're a fan of small boats you gotta check out the Solo Skiff. Visit their facebook page or their website at http://www.soloskiff.com.
And that is my Solo Skiff review.
John Kumiski
http://www.spottedtail.com
All content in this blog, including writing and photos, copyright John Kumiski 2013. All rights are reserved.

Related articles