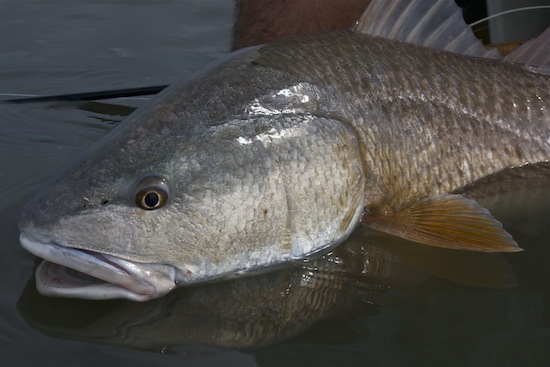 Most fishermen have secret spots, ones they don't even tell their best friends about. I have a couple myself. They're really not secrets, as I see other fishermen there sometimes, but I certainly don't go around advertising them. Mine provide me with a little oasis of quiet when I get to go out fishing by myself.
I went to one the other day. I took the kayak. I hadn't been there since last spring and so wasn't sure what I would find. What I found was six fine redfish tailing.
The first fish was clearly a nice one. Fly fishing from a kayak demands precise boat positioning in order to garner success, so I first got upwind and up-sun of the fish. Once in position I made my cast. The first missed, but he charged the second and nailed it. Bingo! The fish weighed about 15 pounds, the nicest one I'd gotten in months. I'd been out only 15 minutes and the day was already an outstanding success.
The next four shots were not as fruitful. The fish either spooked off the fly or ignored me completely. Finally another fish took the fly. He ran through some weeds, which collected on my line. I don't know if that had anything to do with the loud CRACK that scared the daylights out of me, but next thing all I had in my hand was the butt of the rod. The rest had broken off and slid down the line.
Although I got the fish, my fishing for the day was done. Just as well. It's one of my secret spots. I treasure it, and I certainly don't want to abuse it.
John Kumiski
http://www.spottedtail.com