This is an excerpt from the book, Redfish on the Fly, by Capt. John Kumiski 
Redfish- Presenting the Fly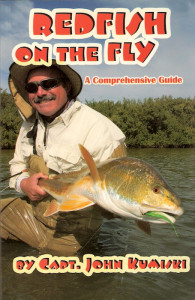 It was a redfish fisher's dream, a school of at least 500 fish, swimming fast, up on top, crashing bait all around us, one of the finest sights in all of angling, and one that one doesn't see very often in the Mosquito Lagoon. Rob Ricks was trembling with excitement. He had caught exactly one redfish on fly in his life, and badly wanted another. It was practically certain that the deed would now be done.
"Cast out in front of them, and just make it look alive," I told him. Rob was a weak caster. When he got the fly in the water, not very far away, there was so much slack in the line that the cast was useless.
"Try it again," I said. "Lead them, put it where they're going and let them swim into it." Rob tried again with the same result. And again, and again, and again. Finally the fish disappeared. We'd caught exactly none.
The moral to this story? Your casting must be second nature in order to take advantage of opportunities, especially once in a lifetime opportunities like this one was. But it's a great segue into this section's premise- after locating the fish, how you present the fly to them is the single most important variable in getting one to bite, much more important than what's at the end of your leader.
The Strike Zone
When I was younger and just getting into saltwater fly fishing, I was fortunate to get a copy of the finest instructional fishing video ever made, the late Billy Pate's Fly Fishing for Tarpon (which I recommend highly). In this video Billy explains the concept of strike zones as it relates to tarpon fishing. We're going to revisit this concept and then relate it to presenting the fly to redfish- cruising fish, laid-up fish, and tailers.
The strike zone is an area around the fish where, if the fly is properly presented, you have a reasonable chance that the fish will take it. This area is roughly shaped like a half a football, extending with the wide part at the mouth of the fish to the apex out in front of it. Since their mouths point down, redfish prefer to feed down, but they show little hesitation in coming up for a fly unless they are heavily fished or have been disturbed by boat traffic.
Understand that the strike zone changes in size constantly though, going from non-existent to huge and back again, and occasionally even goes behind the fish. Over the years I've seen a few fish do about faces to take a fly. It's rare, but it does happen. Our assumption here is that in order to get a bite, the fly must be in the strike zone.
Hopefully it's obvious that the longer the fly is in that strike zone, the more likely the fish is to take it. This brings us to presentation angles.
Read the rest of the article here, or  buy the book!
John Kumiski
http://www.spottedtail.com
All content in this blog, including writing and photos, copyright John Kumiski 2013. All rights are reserved.
Related articles