Port Canaveral's Giant Jack Crevalle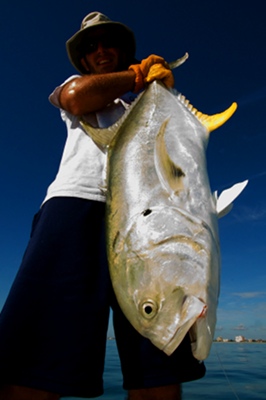 It was one of my most memorable fishing charters. The surface of the Mosquito Lagoon was slick. We'd been on a school of redfish for two hours and gotten one bite, which was missed. I said, "We should go to Port Canaveral." So we left the reds, pulled the boat out, and drove to Port Canaveral.
The wind had come up by the time we got there, but by the grace of God we found a long string of jack crevalle only a half mile from the south jetty. These weren't little hockey puck jack crevalle, or even nice, healthy 10 and 12 pounders. These were the big, mean, break-your-back, take-no-prisoners 30 and 35 pound jack crevalle.
We had four ten pound spinning outfits on board. As I tied a one ounce jig onto the line of one I told my angler, "This is like hunting elephants with a spitball shooter." I threaded a five inch chartreuse jerkbait onto the hook of the jig and handed him the rod.
We idled around briefly until we found the fish again. Mike started casting. In short order he made a good cast and a cooperative jack nailed the jig.
By this time the sea breeze had kicked in. We had to chase the fish into the waves, which were pouring over the bow. I had serious concerns that Mike would be going swimming, so I had him get behind me and use the poling tower as a lean bar. This had the advantage of slowing down the flood coming over the bow. I told him, "If you catch this fish it will be a miracle."
The guy was a solid angler, and before too long the fish was beneath us. Mike would pull him in close, and the fish would take off again. Mike had to work around the poling tower, and the pushpole, and the motor. The Mitzi was rocking and rolling, waves were still coming in, and the bilge pump was running non-stop. It was true combat fishing, an awesome battle between two equally determined antagonists.
Read the rest of this story here…
John Kumiski
http://www.spottedtail.com
All content in this blog, including writing and photos, copyright John Kumiski 2014. All rights are reserved.