Mystery Tackle Box a Winner
An email came in that wasn't spam! It asked me if I wanted a Mystery Tackle Box. Yes I did. The MTB came in three flavors- bass, panfish, and saltwater. Which did I want?
I wanted all three of course but I chose saltwater, then forgot about it. A few days later, though, a Mystery Tackle Box came in the mail.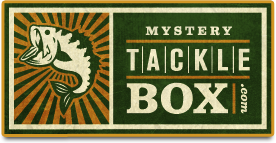 Frankly I expected junk from a Chinese knock-off factory. Much to my surprise and delight everything in the box was something I could use, to whit:
-a package of Big Bite soft plastic saltwater baits, shrimp imitations;
-a package of Pintail soft plastic baits, jerk baits;
-a package of Mustad Power Lock Plus size 3/0, 1/8th ounce hooks;
-a Strike Pro surface plug, walk-the-dog type;
-a Hyper Striper jig, something like a Road Runner;
-a package of Knot 2 Kinky nickel-titanium leader wire.
Heck Yeah!
So, now it was time to see what Mystery Tackle Box really was. A visit to their website (http://mysterytacklebox.com) ensued. This is what I found:
"Mystery Tackle Box is a monthly subscription service that introduces both beginner and expert anglers to new fishing lures and tackle. In addition to receiving fishing lures, you will also receive a "About Your Box" card that will explain a little more about each bait you received in your box as well as a unique link to our website to watch videos, read product reviews, learn different rigging options and much more information about each of the products in your box.
"Each month you will get a variety of quality fishing products from both large and small manufacturers. We do our best to send a variety of brands and products types in each box to ensure that you have the best chance of discovering and trying new products. We have product specialists who are experienced tournament fisherman reviewing each bait that we put in the box to make sure it is good quality.  Every box will have at least $20 worth of products and most boxes have $23-$27 worth of retail value."
You can subscribe for yourself or as a gift subscription for someone else. The testimonials page on the website is full of glowing letters from folks who were happy with their boxes.
Check them out at http://mysterytacklebox.com and see if a Mystery Tackle Box subscription will work for you.
John Kumiski
All content in this blog, including writing and photos, copyright John Kumiski 2015. All rights are reserved.