How to Buy Fishing Sunglasses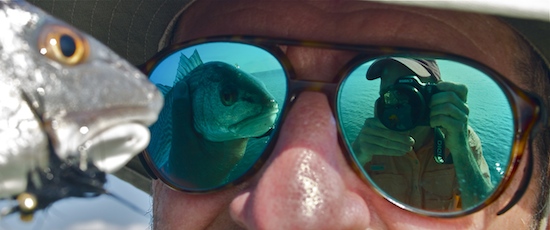 These glass lenses have been good to me for a long time.
All fishermen should wear Polarized fishing sunglasses while fishing. They protect your eyes from both the sun and from errant fishhooks. A fishhook through the cornea or a sunburned retina will ruin your day.
Your fishing sunglasses will be wonderful for driving too, something to keep in mind when you're counting your pennies.
You should wear the best fishing sunglasses you can afford. You only get two eyes and when they're permanently damaged you're out of luck. If you don't need a prescription, the highest quality fishing sunglasses can be purchased at discount houses, such as Sierra Trading Post. If you need a prescription, though, be prepared to part with $200-400. Sorry.
Look for sunglasses that block 99-100 percent of all ultraviolet light. Sunglasses with lenses that wrap around to your temples keep out more light and UV radiation than typical lenses. Keep in mind that most good fishing sunglasses are not labelled "fishing sunglasses."
Fishing Sunglasses Lens Material
Your first decision once you have decided to spend some money is whether you want glass or polycarbonate lenses. Compared to glass, polycarbonate scratches easily. If you like to keep up with the latest styles, and have new glasses two or three times a year, it makes sense to get polycarbonate lenses. Poly lenses have the highest impact protection. From that point of view they are the best lenses you can get. Polycarbonate lenses require more care than glass; for example, they should not be cleaned with any paper products. They should be cleaned with a microfiber cloth after being wetted with clean water or a lens cleaning solution.
If, however, you dropped $350 for a prescription pair and want them to last as long as possible, you may prefer glass. They will be heavier than the polycarbonate. I have a pair of prescription glass lenses that are on their fourth set of frames. Glass lenses will last for years if you give them a modest amount of care. And this may make purists shudder, but I clean my glass lenses by licking them and then rubbing them clean with a paper towel.
Read the rest of this article here…
John Kumiski
http://www.spottedtail.com
All content in this blog, including writing and photos, copyright John Kumiski 2014. All rights are reserved.

Related articles