Anything Worth Doing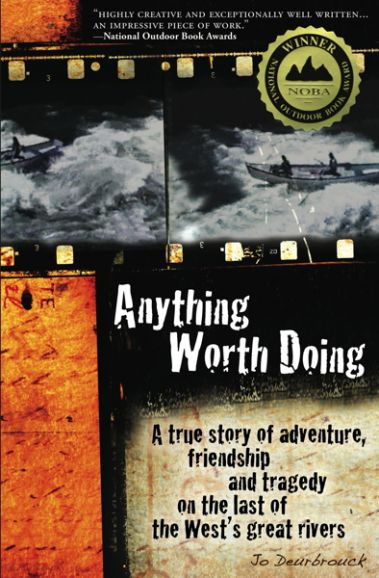 A good book ought to make you think. A really good book ought to make you think hard.
If making you think was its only positive feature, Anything Worth Doing: A True Story of Adventure, Friendship, and Tragedy on the Last of the West's Great Rivers (by Jo Deurbrouck, Sundog Book Publishing, 198 pages, $15.00) would have hit the bullseye. But this book goes way past that.
Clancy Reece helped pioneer whitewater recreation in Idaho in the early 1970s. Jon Barker was his protege. Together they have some tremendous adventures, the biggest of which was to successfully float Idaho's Salmon River from source to sea. They used a small, handmade dory as their vessel. "Anything worth doing is worth overdoing." It's their motto.
"Wilderness raft guides of the 70s and 80s were often, like Clancy Reece, lovers of freedom with a healthy distrust of rules. They were less often looking for employment when they stumbled into guiding than a solution to what, for each, had been a lifelong problem: how to fit into or somehow hide out from the increasingly urban, increasingly fast-paced latter 20th century. Many felt like they should have been born into a time with more elbow-room, a time in which a man could build a good life from raw materials and honest sweat…"
So we a pair of have what society might call "river bums," living life on their own terms, the closest of friends, poor in terms of dollars, wealthy in terms of experience. They cook up a hare-brained scheme- to run the Salmon River at peak flood, all the way across Idaho, in a single 24 hour period. The river, running at 96,000 CFS, finally flips the dory near the end of the trip. Reece, not wearing a wetsuit, succumbs to hypothermia. All stories followed long enough have death at the end.
Deurbrouck writes with an almost-startling clarity. There are times during the read when you will almost find yourself clenching the gunwales. The book almost forces you to turn the next page, a hard to put down once you decide to open it. It ought to be required reading for all whitewater paddlers.
After reading it I found myself contemplating, "What's the best way to live your life?" "What's the best way to end it?" There are worse ways to die than with your boots on.
Anything Worth Doing is undoubtedly a true story of adventure and friendship. Whether it's a tragedy as well is something the reader will have to decide for himself.
John Kumiski
http://www.spottedtail.com
All content in this blog, including writing and photos, copyright John Kumiski 2012. All rights are reserved.

Related articles