Why Spotted Tail Charters Will Help You Catch More and Bigger Fish
Capt. John Kumiski has been fishing since before he learned to walk.
He started guiding part-time in 1988, and since January of 1996 has been making a living by fishing, writing about fishing, selling photographs of fishing, and giving classes and seminars about fishing.
He gives everyone who fishes with him the best day he possibly can. Usually you'll find some fish that cooperate.
He says, "I love my anglers. I treat them, and the other fishermen I share the water with, the way I would like to be treated. Being human I sometimes err. If I upset you please let me know. I will apologize and do my best to make it right."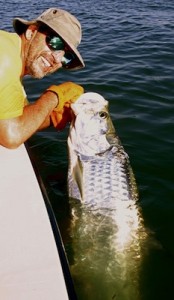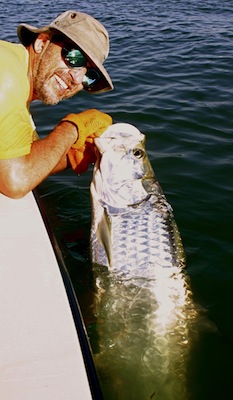 Here's what a few of my anglers have said about fishing with John:
"I have fished all over the world with dozens of different guides, and Capt. John Kumiski would have to rate as one of the best. He is knowledgeable, patient, and skillful. My son and I will never forget catching in one morning on fly rods two redfish weighing a total of 40 pounds." -Michael Barnett
"I cannot thank you enough for yesterday. I had one of the best days of my life and I enjoyed every minute. And of course, I can't stop thinking about: 'Lane, have you ever tried tarpon fishing? You'd be really good at that.' I need to try that.
"I'll be back for reds, too. That's some awesome stuff. I'll send others your way, as well. Thanks again."   -Lane Thurgood
 "I have never gone fishing with anyone more knowledgeable, relaxing, and fun!!" -Kathy McCarthy LaFlam
 "I would like to thank you for a great fishing trip. My son and I will treasure this trip for some time. We have never been on a guided fishing trip like this one. This trip was fantastic, your personality and demeanor is perfect for your job. Your courtesy on the water was exemplary." -Randy Sorbi
 "Just a note to thank you for the outstanding day Laura and I spent fishing with you. It may have been one of the most enjoyable days I have ever had fishing. I have been recommending you highly." -Gene McDonough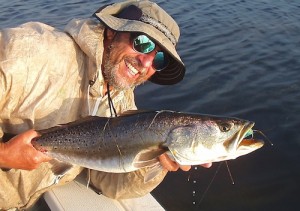 If you can't or don't want to hire John to guide you, let his free articles and blogs help you to catch more and bigger fish. He has written a number of books about fishing, including:
–Fishing Florida's Space Coast
–How and Where to Catch Redfish in the Indian River Lagoon
John gives Show and Tell seminars periodically on the Indian River Lagoon, locally, in Titusville. It's good to share what you know.
You can keep current on what's happening in the Indian River Lagoon system by simply subscribing to his email list here:
I have a sense of humor. It's a little off the main stream. :-)
A graduate of the University of Masachusetts, I've been in central Florida since 1984. I started guiding the lagoon system in 1988. Been at it ever since. Don't know what else I'd do. Nothing I would rather do.
For the other details,
born cambridge massachusetts planet earth 1952 graduated medford high school 1970 drafted 1972, two fabulous years in the us army bachelor of science university of massachusetts 1980 married susan surprise 1980 moved to florida 1984 son maxx showed up 1988 son alex showed up 1990 first book (fishing the everglades) published 1993 life keeps rolling along
Please come fish with me. We'll both learn something. And we'll have fun!
Call today to discuss your central Florida fishing adventure! 407.977.5207.